Today we introduce you an upgrade in a CATERPILLAR G3516 control system. The engine was overhauled and the upgrade was carried out by «RS MOTOR» with our partner MOTORTECH.
The main goal on the upgrade was update the control system with MOTORTECH components, following the next improvements:
More powerful and reliable ignition controller
Visualization of ignition control data and adjustment of various parameters
High performance ignition coils
Optimized starting behavior and engine performance
Kits include all necessary components for a quick and successful upgrade
Prefabricated components guarantee easy installation
The components of MOTORTECH used in this upgrade have been:
MIC5 Ignition Controller.
Detcon20 Detonation Control System.
AlphaRail Wiring Rail for Detonation and Temperature Control.
ALL-IN-ONE Generator & CHP Control System.
VariFuel2 Air/Gas Mixer.
(1) MIC 5 Ignition Controller
(1) Junction Box
(2) Caterpillar Ignition Coils
(1) AlphaRail wiring rail for detonation and temperature control
(2) Detonation sensors
(3) Thermocouple
(1) Temperature sensor manifold air
(2) Pressure sensor manifold air
(1) VariFuel2 Air/Gas Mixer with Integrated Stepper Motor (one per bank)
(1) DETCON20 DETONATION CONTROLLER
(2) VariStep3 Stepper Motor Driver
(3) I-AIN8TC Analog Input Extension Module for Thermocouples
(1) ALL-IN-ONE.NTC BB Controller
(2) IO8/8 Input/Output Extension Module
(3) IB-NT Internet Communication Module
(1) ALL-IN-ONE.Vision8 Display
(1) Master SCADA Control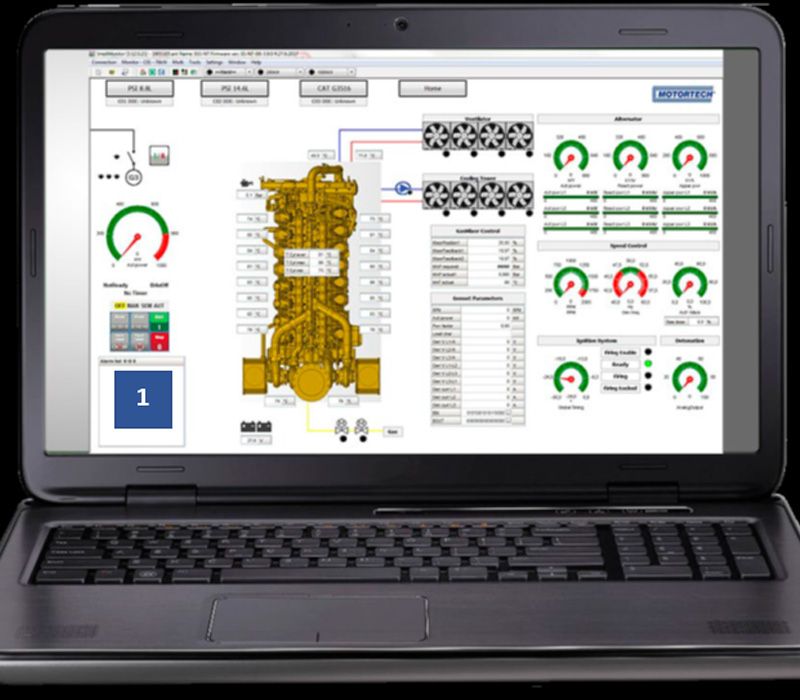 (1) Master SCADA Control