RS MOTOR is a Certified System Partner of AVAT, the company that has developed and manufactures the TEM-Evo control systems used by more than 10,000 Deutz-Mwm gas Engines.
The proposed system, E2CON-TE has also been developed and is manufactured by AVAT. It is an open and easy to install system, created as a replacement for the TEM-Evo controller originally supplied with the MWM engines, especially for those versions that have become obsolete over time.
E2CON-TE SYSTEM DESCRIPTION
CHARACTERISTICS
Simple commissioning – TEM-Evo-trained technicians are able to install the E2CON-TE and adapt it to the characteristics of each plant.
Comprehensive scope of delivery, including circuit diagrams, installation instructions, function descriptions, limit value lists and parameter descriptions.
Direct web interface to the E2PILOT.
Optional connection to AVAT VIRTUAL SERVICE, for an overview of all customer-owned plants / engines and alarm management.
FUNCTIONS
Control of engine speed, power and air/gas mixture through a single, robust and fast multivariable controller.
Faster engine start-up for flexible operation.
Start and stop sequences for island and grid parallel operation.
Wastegate and ignition control.
Highly sensitive knocking control on individual cylinders.
Loss detection with automatic power reduction and engine shutdown.
Control of plant peripherals.
Control and monitoring of all cooling and heating circuits.
Aeros control.
AREA OF APPLICATION
MWM engines of type TBG 616, 620 and 632, as well as TCG 2016, TCG 2020 and TCG 2032.
Biogas, Natural Gas or Special Gases.
From 500 to 4500 kW power.
From 8 to 20 cylinders.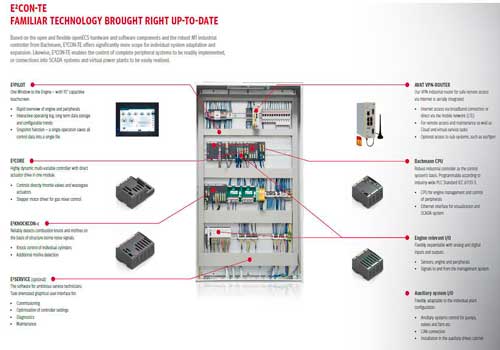 DELIVERY SCOPE
E2CON-TE
o Generator set control system based on AVAT openECS system for modernisation of MWM/Caterpillar generator sets.
o Integration of engine sensors and actuators, VPN router 4xLAN + 1Xwan (standard).
o Interface via Modbus TCP or 3964R via TTY.
o Interface to existing IOC2 or IOC3 I/O modules.
o Supplied on mounting rails with the idea of reusing existing Rittal AE1280 enclosures.
E2CON-TE DISPLAY
o 15.6″ full HD touchscreen.
o HxWxD 281x432x74 mm
o Operating Temperatures: 0…+60ºC
o IP67 front and IP20 rear protection.
SOFTWARE E2SERVICE
o Software valid for configuration, parameterisation, diagnosis and operation of the control system.
o A single software package is valid for all engines in the plant.
o The scope of delivery consists of a licence for unlimited operation on a single PC.
Now that you have seen another example of RS Motor's technical capability, do not hesitate to ask our team for a quotation for the supply of any type of Mwm engine work or spare parts for Deutz-Mwm (genuine and/or OEM).
For more information, please write to rsmotor@rsmotor.es or social@rsmotor.es.